SAP-intergrated
Determination
of
Target
Times
A special feature of our target time calculation is the full integration into SAP. With HSplan/IS SAP the work planner calculates the target times in the familiar SAP-Interface. Switching to an external system becomes unnecessary. Each calculation step is saved in SAP and increases the transparency and reproducibility while reducing the subjective factor.
Duplicate data keeping is unnecessary and Excel-calculations and auxiliary calculations are things of the past. The SAP Standard is not changed.
Continuous Working Method

The planner remains, during the work planning and target time determination, in the trusted SAP-interface.
Entirely Integrated in SAP
Through HSplan/IS-SAP, the level of work steps is introduced below the processes in addition to the SAP-standard.
A calculation is called upon from a choice out of a list or from a symbol list.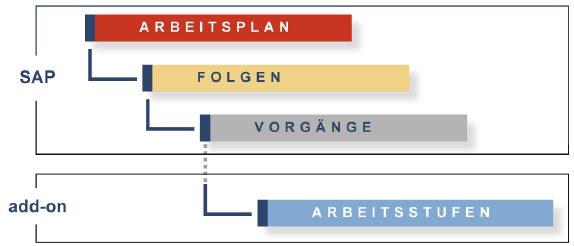 HSi- Work Step Editor as add- on
Quick and Accurate Analogy Planning
In addition to the SAP-Standard, the calculations will be stored within the work plan. Accurate and rapid analogy planning is possible using the calculation recall function.
All calculated times are documented and traceable at any time.
 Your Advantages:
Continuous Working Method
Reduction of the subjective factor
Improvement of the quality of times
Traceability of the calculation steps
Simple care of the elements with the proven HSi-Standard system
SAP-Standard will not be changed
User Reports
Proven Features
Airbus Defence and Space GmbH
The work of electronics planners of Airbus Defence and Space have set a goal to use a uniform calculation to get exact target times and create their work plans. It was obvious to orient themselves towards work preparing for the machining area in the home. For this, the calculation and work planning system HSplan comes with complete integration into the SAP system, since 2005, with positive results. It was found that these adaptive software solutions with several proconfigured process modules were well proven for the other manufacturing and assembly oriented division. Ultimately, the decision was made to use these planning tools in other trades, because they allow planners to independently incorporate technology data and develop building blocks for new processing methods.
Read more
Guaranteed planning reliability
Kasto Maschinenbau GmbH & Co. KG
KASTO decided to implement the software solution HSplan/IS-SAP from HSi GmbH with pre-configured process modules for fast and exact IT-based calculation of target times on the basis of standardised times. An essential requirement was the capabiltiy of integrating the planning software in the existing SAP systems.
Read more
References








Further Products