To quickly calculate cost prices of individual parts and assemblies we recommend our HSkalk/TK. All cost components, like technological processes, material-, purchased parts- and special direct costs, can be calculated in one view. Scaled prices-, techonology- and location comparisons assist you with deciding for the optimal production and logistics. The foundation for a reliable calculation are target times calculated with the HSi-Technology Base, customised to your machine park.
Effective Pricing Depending on Units of Production
Dependent on the amount of pieces and released quantity, article costs are determined, set-up expenses are split or separately disclosed. Quantity-dependent material costs and special costs are also taken into account.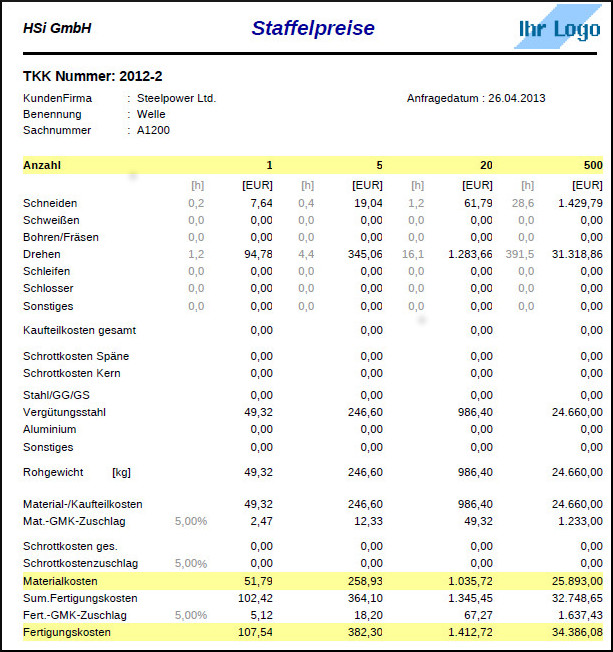 Report detailed scale prices
Optimal Variant Determination
Piece- and set-up costs can be determined and compared for each work station via the machine parameters stored in the HSi technology base®.
The best option is highlighted and displayed graphically.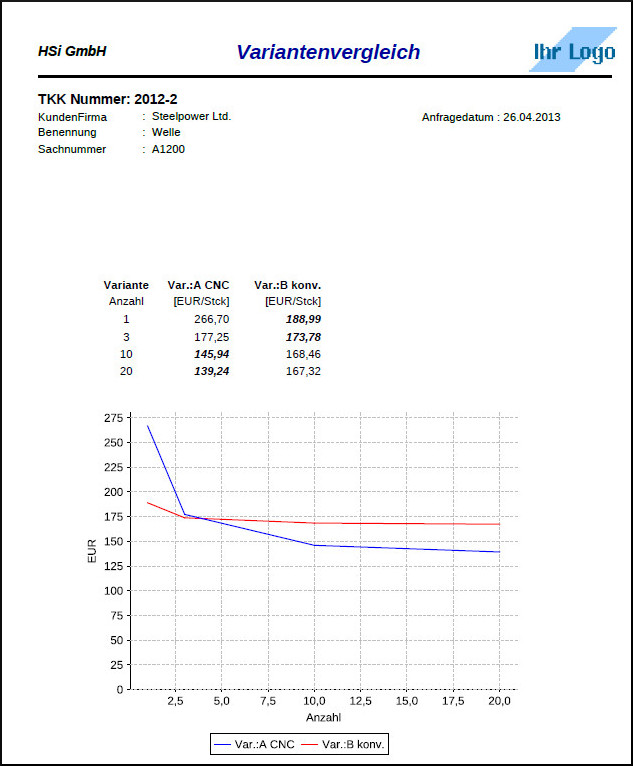 Report variation comparison
Your Advantages:
Rapid generation of technology- and country-specific calculation variations
Correct decisions concerning technology, location and distributors on the basis of a transparent cost calculation
High negotiation security for clients and distributors
Applications
Quotation and cost calculation
Cost design
Technology- and location comparisons
Comparison calculation of supplier quotations
Make-or-buy decisions
User Reports
Quick assessment of outsourced manufacturing orders
Sauter Feinmechanik GmbH
While investigating on reliable solutions for calculation and assessment of external processing of manufacturing orders, Sauter Feinmechanik GmbH came upon the software applictaion HSkalk/TK. This solution allows for an end-to-end calculation of single parts as well as groups of components considering variations in technology as well as country specific and business-related aspects. It enables the Purchase Department to assess external deliveries in a more efficient way. In an environment of global competition they do not feel obliged to automatically decide for the least expensive supplier but to commission those with full traceability offer a stronger, more reasonable basis for constructive negotiations with suppliers, resulting in win-win situations.
Read more
Gain better estimates of external services
Brückner Maschinenbau GmbH & Co. KG
Does an exact calculation of production activities has to be reserved exclusively for manufacturers? How can cost components be broken down according to cost-breakdown? Which costs define the pricing and where do saving potentials lie? Purchasers and cost accountant at Brückner Maschinenbau already asked these questions years ago. In order to achieve the respective calculation- and planning security, the company uses the calculation system HSkalk/TK. It serves the purpose of calculating components and modules while taking into account technologically-/country-specific as well as economic variants.
Read more
References






Further Products