For a transparent and reproducible work planning we offer you the perfect system with HSplan. Adapted to the needs of work preparation you thoroughly increase the quality of target times, the process documentation and reduce the subjective factor. In this process, the simple handling is paramount to the user. For taking over operations with existing calculations a Copybox is available. To avoid duplicate data keeping connection to or integration in existing ERP-systems is possible.

Rapid and Precise
With HSplan you are as fast as with estimates, but more precise. Each calculation step is documented, the results are more transparent with it any time.
Work Comfortably
HSplan is aligned to match the needs of the work planning and calculations. The determination of the technological consequences and time determination will be continually supported with graphics.
The CopyBox function is available to help with the take over of work flows with supoorting calculations. Each calculation stage can be understood in a calculation report.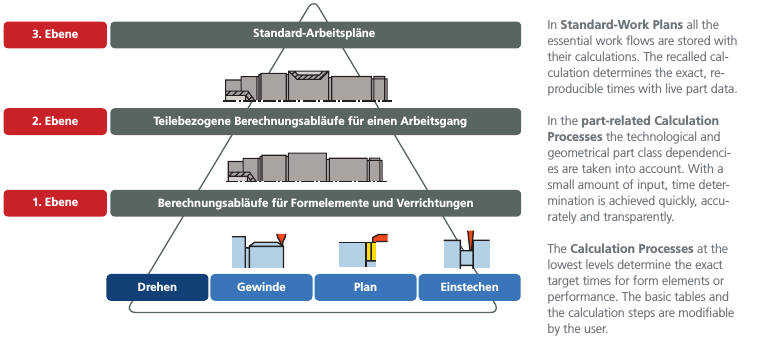 Densification levels of target time determination
Incorporation in the ERP-System

HSplan can be intergratet into the ERP-System or can be combinded through an interface. Finished solutions exist for e. g. SAP, BAAN, eEVOLUTION, FEPA, GODYO P/4, IFOS, INFOR, INFORMING, NAVISION, PSIPENTA and WINCARAT.
Your Advantages:
Exact and rapid work planning and time determination
Continuous high quality of times
Transparency of each calculation step
Reduction in the subjective factors
Good integration in the IT environment
User Reports
Guaranteed planning reliability
Kasto Maschinenbau GmbH & Co. KG
KASTO decided to implement the software solution HSplan/IS-SAP from HSi GmbH with pre-configured process modules for fast and exact IT-based calculation of target times on the basis of standardised times. An essential requirement was the capabiltiy of integrating the planning software in the existing SAP systems.
Read more
Proven Features
Airbus Defence and Space GmbH
The work of electronics planners of Airbus Defence and Space have set a goal to use a uniform calculation to get exact target times and create their work plans. It was obvious to orient themselves towards work preparing for the machining area in the home. For this, the calculation and work planning system HSplan comes with complete integration into the SAP system, since 2005, with positive results. It was found that these adaptive software solutions with several proconfigured process modules were well proven for the other manufacturing and assembly oriented division. Ultimately, the decision was made to use these planning tools in other trades, because they allow planners to independently incorporate technology data and develop building blocks for new processing methods.
Read more
References






Further Products