HSi-Technology
Base
for
Determination
of
Target
Times
Basis for an exact offer calculation and work planning are precise target times for single processes. In the HSi-Technology Base, HSi mapped the usual mechanical processing techniques from machining to steel construction. Tables for working materials and cutting values for all processes are already present and can be ajusted by the specialist department. Three layers for operations, form-elements and part-classes with standardized calculations allow for quick and precise determination of target times.
The unique feature of HSi is the HSi-Technology Base for target time determination

Fast, Accurate Calculations of Complex Processes

To minimize your effort in description, HSi has established form element- and part-based calculation procedures. While reducing the number of inputs, an accurate calculation is conducted with the modules in the background. This means you are as fast as estimates, but accurate.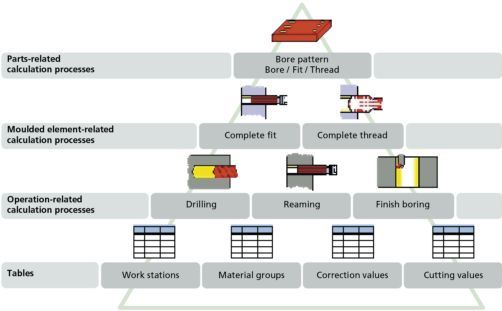 Building of a drilling process component
Maintenance of the Technology Base
The HSi-Technology Base comes with tables for working materials and typical cutting values. These tables and calculation-processes can be modified by the specialist department. Editing the calculation-processes is supported by a graphical interface.
 Selected Cutting values:
Pitch
Number of teeth
Cutting speed
Depth of cut
...
Your Advantages:
Reduction of subjective factors
Easy care of the technology base in the specialist department
Unified  calculation base
Immediately applicable but still customized and business specific 
Included Processes:
Turning
Milling
Drilling
Grinding
Eroding
Gearing
Planing
Shaping
Drawing Slots
Cutting
Sawing
Welding
Bending/Edging
Coating
Assembly
...
Further Products