Calculate better with reliable planned times!
HSi solutions for determining planned times and target times
For your work processes in machine and plant construction, you can determine exact and transparent planned and target times with our HSi solutions. Your calculation becomes more reliable and comprehensible, the productivity of your company increases and with it the competitiveness of your company.
We know the cut and time values of your processes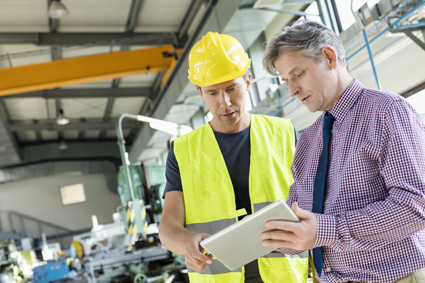 Software solutions for production-related calculation and work plan creation. Our goal is the significant cost reduction and reduction of your production and throughput times. Our solutions enable the automation of recurring activities, so that your time effort for calculation, order control and work planning is significantly reduced by using the HSi process modules.
IT solutions for manufacturing
Our solutions are based on the ready-to-use process modules of the HSi technology base. Here you will find the most common processes such as turning, milling, drilling, grinding, eroding, gear cutting, welding or assembly as pre-configured process modules.
Our unique selling points:
• Fully rule-based system
• Technology basis for determination of planned time with finished process modules
• Expandable intuitive technology base to map any manufacturing process and calculation
• Maintenance of the rules and standards by the specialist departments (no IT expertise required)
• HSi can map all time-management principles (analyses, formulas, value tables, rules)
• BOM-based assembly time determination
• Purely web-based application
• Our planned time calculation can be directly integrated into SAP with HSplan/IS-SAP.
Your advantages:
• Exact and automatable work planning and time calculation
• Consistently high quality of the target times
• adherence to delivery dates and optimized cost planning
• Uniform calculation basis
• Traceability and transparency in calculation, production and work progress
• Reduction of the subjective factor
Optimize your offer calculation, work planning as well as the determination of planned times and target times!
Our solutions stand out from the crowd:
• Intuitive handling
• Modern, web-based applications
• Short implementation times
• Seamless integration into the existing IT environment
• Modular program structure
• High degree of automation
Areas of application:
• Machine and special machine construction
• plant engineering
• aerospace engineering
• toll manufacturing
• steel construction
• Tool and mould making
• supply industry
Talk to us!